DOUBLE STRIKE FOR STANDING CONSTRUCT KTM AT TURKISH GP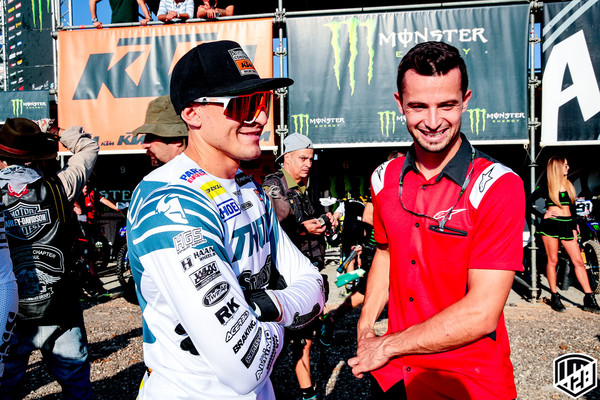 The Standing Construct KTM Team achieved notable success for the fourth GP in a row. Glenn Coldenhoff finished second overall after a strong ride, and teammate Ivo Monticelli had one of his most solid outings of the year to finish in the top five.

The track at Afyon was quick and treacherous, which, coupled to the high temperatures, meant that riders had their work cut out for them. Both team riders got off the gate well in tje qualifying race and Coldenhoff moved into the lead after a few laps. He fended off some furious attacks from Jeffrey Herlings in the closing phases, and secured pole position with a qualifying race win. Monticelli rode in fifth position for most of the race but eventually qualified fourth, a remarkable achievement only three weeks after sustaining a heavy concussion.

Coldenhoff got a great start in the first race, slotting into third. He rode a steady race, keeping the gap to the leaders constant. He eventually claimed third spot. Monticelli worked himself up from a position outside the top ten to finish eighth.

Coldenhoff was in fine fettle in the second race. He lead the race from the start till halfway through the last lap, eventually just being passed in the final lap to finish second. Monticelli launched into the top five, and worked himself up to third. He lost a spot late in the race to Tim Gajser, finishing fourth.

In another great performance for the team, Coldenhoff was second overall with Monticelli fifth.

Coldenhoff has closed in substantially on third spot in the world standings. He is only 11 points behind third with one GP left to go. Monticelli is currently 12th.

The final round if the world championship series is in Shanghai, China, next weekend.

Overall MXGP Turkey:
1 Jeffrey Herlings 50 Pnt
2 Glenn Coldenhoff 42 Pnt
3 Pauls Jonass 38 Pnt
4 Tim Gajser 35 Pnt
5 Ivo Monticelli 31 Pnt

World Championship Standings MXGP:
1 Tim Gajser 744 Pnt
2 Jeremy Seewer 542 Pnt
3 Gautier Paulin 499 Pnt
4 Glenn Coldenhoff 488 Pnt
5 Arnaud Tonus 462 Pnt
11 Max Anstie 256 Pnt
12 Ivo Monticelli 243 Pnt

Il sabato alle qualifiche ero 13° al cancelletto e sono scattato abbastanza bene; durante il primo giro ho sorpassato qualche pilota, ho mantenuto la posizione. Ho concluso 4° ed è stata un'ottima qualifica; ho guidato bene soltanto che a fine manche ero molto stanco, ho sofferto molto mal di testa causato dal trauma cranico avuto ad Imola. La sera sono andato a dormire molto presto, la mattina seguente quando mi sono svegliato i sintomi erano fortunatamente scomparsi...
Prima manche si è spenta la moto proprio in partenza... sono partito quindi tra gli ultimi ma stavo molto bene fisicamente, quindi gara in gran recupero, finita in 8° posizione ma molto vicino alla 5°, per cui il ritmo è stato veramente buono.
Seconda manche invece sono partito meglio attorno l'ottava posizione. Ho spinto per passare subito altri piloti, al primo giro ero 4° per poi trovarmi 3° dopo la caduta di Gajser. Ho mantenuto la posizione quasi fino alla fine quando Gajser mi ha superato. E' stata un'ottima gara! Sono contento perché non ero neanche sicuro di partecipare in Turchia per via dell'infortunio di Imola che mi ha causato forti emicranie e problemi alla vista.