Ivo Monticelli started for Team Italy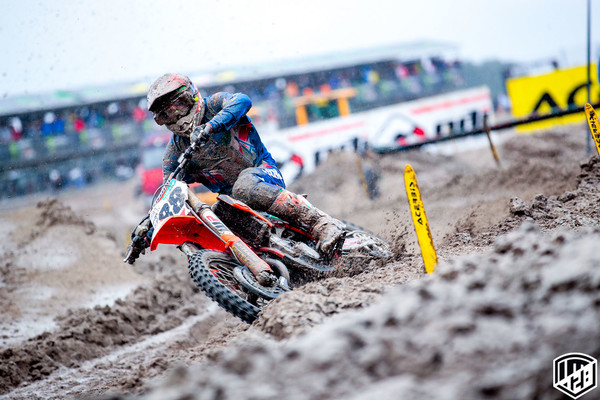 Glenn Coldenhoff of the Standing Construct KTM team, together with TeamNL, managed to win the MX of Nations for the first time in history. Coldenhoff rode two very strong races at the muddy circuit of Assen and not only won the team classification with TeamNL but also won the individual victory.
Glenn continued his good form on the TT circuit in Assen. The course was perfect before the weekend and the course was also passable on Saturdays. After Glenn set the fastest time in training, he started the qualifying heat with confidence. Due to a poor draw from TeamNL, he was only allowed to drive up to the starting gate as the 27th, leaving him far out. Despite this, Glenn came out reasonably well and came in third after a constant race.

Due to heavy rainfall in the night from Saturday to Sunday, the circuit looked muddy. Because the rain persisted during the day, it became a real wear and tear. Glenn remained calm and drove two very strong manches. He dominated the first moto in which he took the lead shortly after the start to the finish. In the second moto he had to come back from around fifth place. Controlled driving, he worked his way up to the top position. In the rest of the moto he took no big risks and won both motos! With these results he not only won the country classification with TeamNL, but he also triumphed in the open class.

In addition to Coldenhoff, Ivo Monticelli also started for Team Italy. He qualified ninth in the MXGP class on Saturday and rode a strong first moto on Sunday. The fanatic Italian held up well in muddy conditions and finished seventh. In the second moto he started strong and soon came in fifth place. He managed to hold on well until he ran into problems in a crash with a laggard. Monticelli could not finish the race and had to visit the riders' quarters early. Because of this setback, he finished eleventh in the MXGP class and finished sixteenth with team Italy.

MXGP class results:
1 Tim Gajser 3 Pnt
2 Jeffrey Herlings 6 Pnt
3 Jeremy Seewer 9 Pnt
4 Jorge Prado 10 Pnt
5 Jeremy van Horebeek 12 Pnt
11 Ivo Monticelli 39 Pnt

Daily result Open class:
1 Glenn Coldenhoff 2 Pnt
2 Pauls Jonass 5 Pnt
3 Shaun Simpson 13 Pnt
4 Harri Kullas 16 Pnt
5 Zachary Osborne 18 Pnt

Final result country classification:
1 TeamNL 18 Pnt
2 Belgium 47 Pnt
3 England 58 Pnt
4 Estonia 64 Pnt
5 France 68 Pnt
16 Italy 113 Pnt

Ivo Monticelli: "Sabato mi sono piazzato 9° in qualifica; avevo una buona velocità soltanto che ho fatto una brutta partenza e a metà gara sono scivolato.
Domenica prima manche sono partito bene, ho tenuto il passo dei migliori nelle prime posizioni. Sono dovuto fermarmi a cambiare gli occhiali ed ho finito 7°. Seconda manche sono partito molto bene, terzo, ho lottato per qualche giro poi una brutta caduta che mi ha causato un problema poco simpatico... ho insistito ma dopo un po' sono stato costretto al ritiro.