Ivo Monticelli JOINS JM HONDA Racing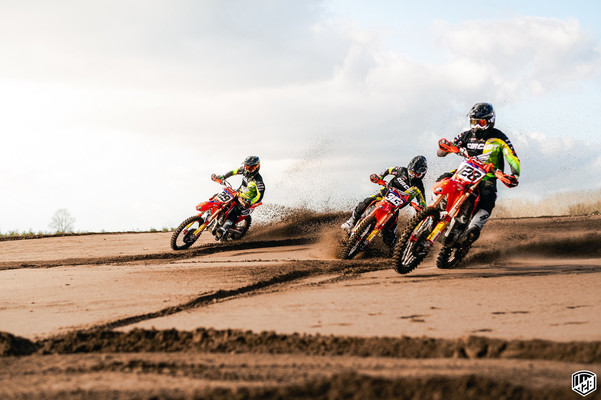 JM Honda Racing Presents Line-Up For 2022 Season
JM Honda Racing is proud to announce its rider line-up for the 2022 season. Besides remaining active in the MXGP class, the JM Honda Racing team will also be participating in the MX2 world championship series.

Henry Jacobi remains with the team. Jacobi had some excellent showings during the 2021 season in the MXGP world championships, and the team is working hard at improving on this for the 2022 season. With 16 finishes inside the top 15, Jacobi was consistently well into the points, but both he and the team are aiming for more, and are working hard towards even better results next year.

Ivo Monticelli will join Jacobi in the MXGP class. Monticelli is an acknowledged fast rider, and hopes to develop further within the professional structure of the team. Monticelli has recovered fully from the shoulder injury that plagued him all season long, and can start his preparations for the season in good physical shape.

After a few years' absence, the JM Honda Racing team will also be active in the MX2 class again. Petr Polak will be flying the team flag in this class. The young Czech has scored several top 15 finishes in the 2021 MX world championship series, and will only benefit from the professional structure of the JM Honda Racing Team to enable him to score consistently well.
"I am proud of the line-up that we announced. We can show some growth with all three riders based on their level of the past year, and that is positive. The Honda material provides an ideal base to be able to produce good results. We have already started with the preparations for the upcoming season, and will leave no stone unturned to get to the race season in full readiness."

"Wow 2022 in rosso! Grazie mille JM Honda Racing per avermi dato l'occasione di guidare questa moto fantastica." Così Monticelli commenta la sua prossima stagione MXGP, in cui come detto è determinato a riscattarsi dopo i guai fisici accusati. "Sono fiero di questa line-up" ha aggiunto il boss Jacky Martens. "Possiamo crescere molto con questi piloti, il materiale Honda poi è un buon punto di partenza. Abbiamo già iniziato la preparazione per il prossimo campionato, faremo di tutto per arrivarci più pronti che mai."