Mixed Fortunes For JM Racing Honda At Portuguese MXGP Round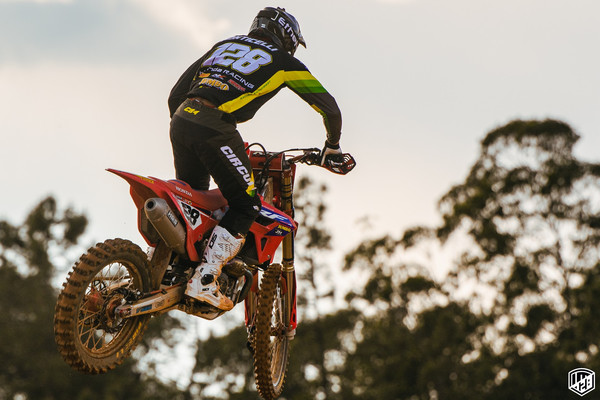 JM Racing Honda experienced mixed fortunes during the fourth round of the MXGP world championship series at Agueda in Portugal. Henry Jacobi again claimed a holeshot, but only got to 14th position in the first race. Ivo Monticelli made his comeback after seven months and focused on getting race rhythm while Petr Polak scored in both MX2 heats, and finished 14th overall for the day.
The series continues next weekend at Arco di Trento in Italy

Overall Grand Prix MXGP Portugal:
1 Jorge Prado 47 Pnt
2 Tim Gajser 45 Pnt
3 Brian Bogers 40 Pnt
4 Glenn Coldenhoff 38 Pnt
5 Pauls Jonass 30 Pnt
18 Henry Jacobi 7 Pnt
20 Ivo Monticelli 3 Pnt

World Championship Standings MXGP:
1 Tim Gajser 186 Pnt
2 Jorge Prado 165 Pnt
3 Maxime Renaux 144 Pnt
4 Jeremy Seewer 124 Pnt
5 Glenn Coldenhoff 109 Pnt
17 Henry Jacobi 52 Pnt
30 Ivo Monticelli 3 Pnt

Overall Grand Prix MX2 Portugal:
1 Tom Vialle 47 Pnt
2 Mikkel Haarup 40 Pnt
3 Jago Geerts 37 Pnt
4 Kay de Wolf 35 Pnt
5 Kevin Horgmo 33 Pnt
14 Petr Polak 12 Pnt

World Championship Standings MX2:
1 Jago Geerts 174 Pnt
2 Tom Vialle 158 Pnt
3 Mikkel Haarup 132 Pnt
4 Simon Laengenfelder 130 Pnt
5 Andrea Adamo 115 Pnt
17 Petr Polak 32 Pnt

Ivo Monticelli made his racing comeback after a seven month long injury-related layoff. It was important to gain race rhythm, which he did in abundance, even scoring some points in the second heat with an 18th place finish.