Monticelli inside of the top fifteen at the MXGP of Spain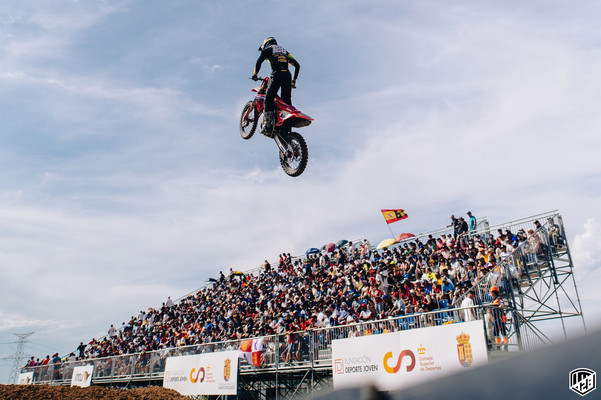 JM Racing Honda finished inside of the top fifteen at round nine of the world championship at Arroyomolinos in Spain. Ivo Monticelli and Henry Jacobi both managed to score some good points with a fourteenth and fifteenth position in the overall classification. Petr Polak did a great job as well and finished in sixteenth position in both MX2 motos.
The circumstances were really hot in Spain and this made it physically demanding for the riders. The deep, hard ruts on the track made it tricky so the riders had to stay focused. All three riders were ready for it and were going for points in the motos.

The JM Racing Honda team will now travel to France for round ten of the world championship in Ernee!

Overall MXGP Spain:
1 Maxime Renaux 50 Pnt
2 Glenn Coldenhoff 38 Pnt
3 Brian Bogers 38 Pnt
4 Tim Gajser 37 Pnt
5 Jorge Prado 30 Pnt
14 Ivo Monticelli 11 Pnt
15 Henry Jacobi 11 Pnt

World Championship Standings MXGP:
1 Tim Gajser 404 Pnt
2 Maxime Renaux 338 Pnt
3 Jeremy Seewer 292 Pnt
4 Jorge Prado 290 Pnt
5 Glenn Coldenhoff 272 Pnt
15 Henry Jacobi 114 Pnt
25 Ivo Monticelli 18 Pnt

Overall MX2 Spain:
1 Tom Vialle 50 Pnt
2 Simon Laengenfelder 42 Put
3 Jago Geerts 34 Pnt
4 Liam Everts 33 Pnt
5 Stephen Rubini 32 Pnt
17 Petr Polak 10 Pnt

World Championship Standings MX2:
1 Tom Vialle 382 Pnt
2 Jago Geerts 372 Pnt
3 Simon Laengenfelder 287 Put
4 Mikkel Haarup 266 Pnt
5 Kevin Horgmo 259 Pnt
20 Petr Polak 54 Pnt

Ivo Monticelli is starting to find his groove again. He showed a good speed in the qualifying heat on Saturday and was riding two decent motos on Sunday. He finished seventeenth in the opening moto and crossed the finish line in fourteenth in the second moto. For Monticelli this is a great result and with this he can continue building towards his old level.