JM Racing Honda inside of the top fifteen at the MXGP of the Czech Republic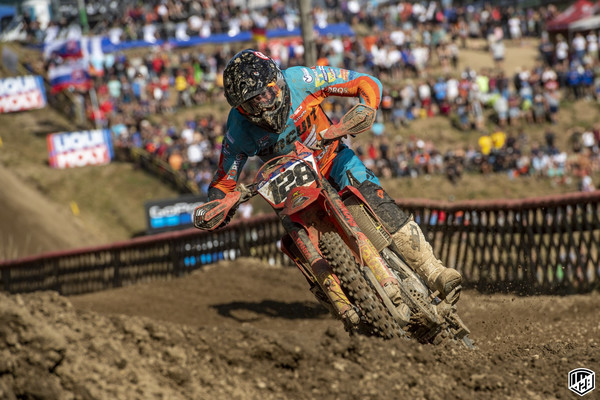 JM Racing Honda has scored top fifteen positions at round 13 of the world championship in Loket, Czech Republic.

In the MXGP class it was Jacobi who took a really good start in the opening moto and started the race in tenth position. The organization had watered the track and due to this it was slippery in places. Jacobi slid out after four laps and dropped back to twentieth position. In the rest of the race he gave everything he had and finished the race in sixteenth place. Monticelli had his problems in the opening moto as well and finished in the race in 25th position.

Both riders started the second moto inside of the top fifteen. Jacobi was riding in thirteenth position till after the middle of the race. He wasn't able to held on this position and finished the race in fifteenth spot. Monticelli was riding a consistent race and after a strong end of the moto he came home in fourteenth position.
Jacobi finished in fourteenth position overall and Monticelli ended the weekend in seventeenth place. After thirteen rounds it is Jacobi who sits in fifteenth position in the world championship standings while Monticelli is in 21st position. This weekend the JM Racing Honda team has their home Grand Prix at Lommel.

Overall MXGP Loket:
1 Jeremy Seewer 47 Pnt
2 Maxime Renaux 45 Pnt
3 Tim Gajser 42 Pnt
4 Glenn Coldenhoff 36 Pnt
5 Jorge Prado 32 Pnt
14 Henry Jacobi 11 Pnt
17 Ivo Monticelli 7 Pnt

World Championship Standings MXGP:
1 Tim Gajser 577 Pnt
2 Jeremy Seewer 452 Pnt
3 Jorge Prado 442 Pnt
4 Maxime Renaux 410 Pnt
5 Glenn Coldenhoff 399 Pnt
15 Henry Jacobi 165 Pnt
24 Ivo Monticelli 38 Pnt

Overall Grand Prix MX2 Loket:
1 Jago Geerts 45 Pnt
2 Thibault Benistant 43 Pnt
3 Simon Laengenfelder 42 Put
4 Kevin Horgmo 34 Pnt
5 Tom Vialle 33 Pnt
20 Petr Polak 3 Pnt

World Championship Standings MX2:
1 Jago Geerts 543 Pnt
2 Tom Vialle 535 Pnt
3 Simon Laengenfelder 437 Put
4 Kevin Horgmo 390 Pnt
5 Mikkel Haarup 358 Pnt
20 Petr Polak 79 Pnt


Both Ivo Monticelli and Henry Jacobi managed to finish a moto inside of the top fifteen and Jacobi finished in fourteenth position overall.