JM Racing Honda finishes inside of the points in difficult French MXGP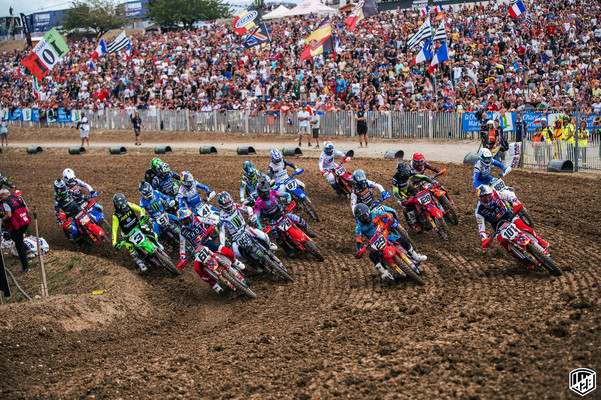 Round seventeen of the world championship was held in St. Jean d'Angely in France, a really technical track with a lot of elevation changes and a slippery surface. Jacobi qualified himself in seventeenth on Saturday while Monticelli crossed the finish line in 24th spot after a crash in the qualifying heat.

The first moto started with a really good start for Monticelli. He started the race inside of the top five and tried to ride the high pace for as long as possible. This cost him a lot of energy and due to this he had to lower the pace in the second part of the race. He finally finished in eighteenth place and scored three points. Jacobi had several battles around fifteenth position and he finally finished in sixteenth place.
In the second moto it was Jacobi who took a good start. After the first official lap he was in eighth place and stayed around tenth position in the first few laps. Due to a crash he lost a lot of positions and finally finished the race in eighteenth. Monticelli was battling around fifteenth position in the beginning of the race. Unfortunately he collided with another rider and crashed. Because his bike had a lot of damage he was forced to retire from the race.

Jacobi finished in seventeenth position overall and Monticelli ended the day in twentieth. With still one round to go, Jacobi is in fifteenth place in the championship while Monticelli sits in 24th position. In two weeks from now the final round of the championship will be held in Turkey!

Overall MXGP France:
1 Tim Gajser 47 Pnt
2 Jeremy Seewer 45 Pnt
3 Jorge Prado 40 Pnt
4 Romain Febvre 36 Pnt
5 Maxime Renaux 34 Pnt
17 Henry Jacobi 8 Pnt
20 Ivo Monticelli 3 Pnt

World Championship Standings MXGP:
1 Tim Gajser 721 Pnt
2 Jeremy Seewer 615 Pnt
3 Jorge Prado 557 Pnt
4 Glenn Coldenhoff 553 Pnt
5 Maxime Renaux 540 Pnt
15 Henry Jacobi 216 Pnt
24 Ivo Monticelli 53 Pnt


JM Racing Honda has scored points at round seventeen of the world championship MXGP in St. Jean d'Angely in France. It was a difficult Grand Prix for the team and due to this Henry Jacobi and Ivo Monticelli had to be satisfied with seventeenth and twentieth position overall.